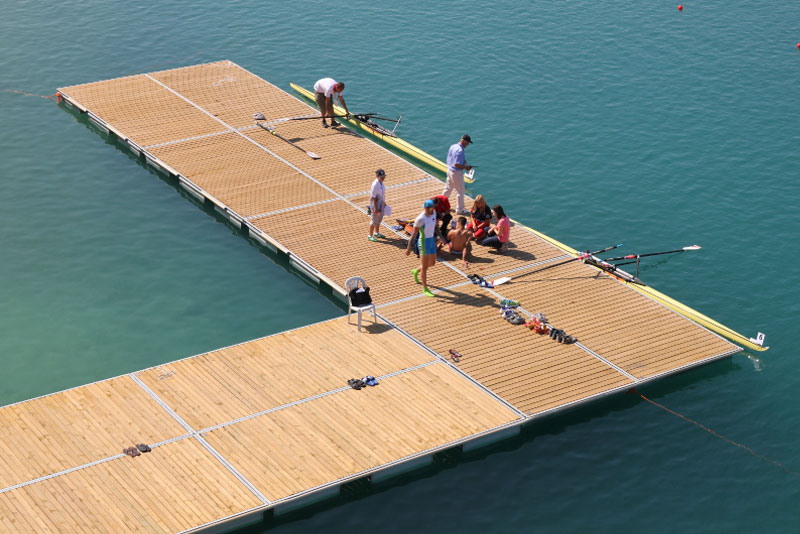 A floating concrete pontoon is a solid form made of reinforced concrete and an inner group of chambers filled with a lightweight watertight material, typically polystyrene.

The essence of the technology of design and manufacturing of floating concrete structures, is the calculation and design to produce a heavy duty structure that will meet the following requirements.

Stay afloat, have a life span of more than 20 years, maintain functionality throughout its service life regardless of load distribution or impact as well as wind loads and tidal changes, be rearrange able or movable.

Concrete pontoons are completely unsinkable, have high buoyancy, and a constant freeboard height. They can be equipped with accessories such as boat booms, electricity, water, lighting pedestals and bollards, etc. The concrete decks of pontoons can be patterned with things like cobblestones or paving stones or other furnishings.

The non-skid finish on the surface will far outlast any wood, plastic, or WPC composite deck material on today's market. Even in the roughest weather, the concrete is stable and safe to walk on as it rises and falls with the tide and your boat– it's like walking on land!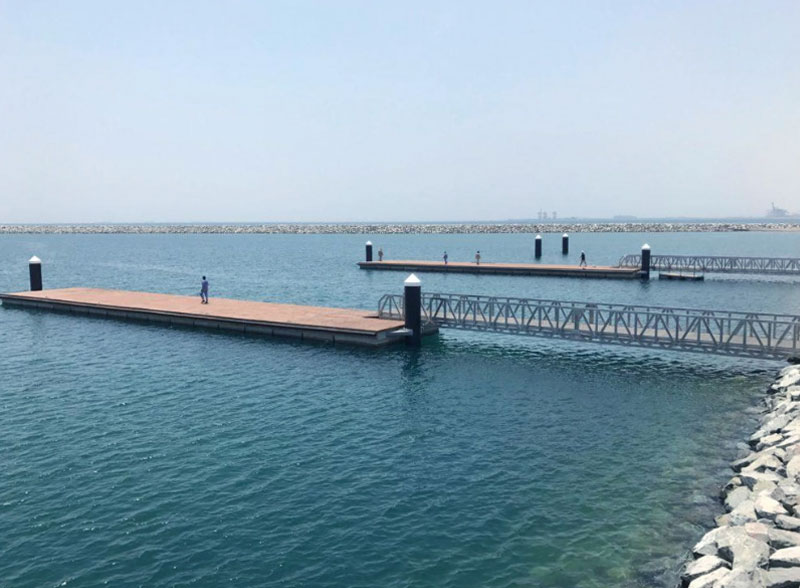 Concrete Pontoon (Dock) Features
• Very low maintenance
• Quiet—fewer loose mechanical connections
• 34,000 ton. weight creates the stability
• Will not rust or corrode
• Not affected by salt water
• Easily transported by truck

Whether for a concrete floating dock systems or an entire marina that is low cost, longer lasting, low maintenance, and safe, even in the roughest conditions, our products are durable, rock solid, and affordable. Any conduit needs for electricity, phone, cable TV, or even fuel docks and pump out station facilities can be easily incorporated and installed.

With our custom solutions, you'll have the following advantages:

Lower cost, longer service life with the neat elegance of concrete, lower maintenance, safe and stable surface, freeboard that moves up and ebbs with the tide, ability to configure to nearly any length or design, service channels for utilities, clear appearance and environmentally safe.

It is very important to know the topography of the area where the floating structure will be used. What type of floor does this body of water have? If it's very soft and muddy, the pilings for a fixed dock would be difficult to secure. Also, if it is a hard rock shelf, it would also be a challenge to set the pilings in place. Next, how deep the water is; if the depth at high tide is more than 4 meter, fixing pilings becomes very complicated. Floating docks, however, can be secured in various ways depending on the layout and the direction of the weather. The anchoring system will be custom-designed to prevent any horizontal movement in response to the forces of wind and wave, while allowing natural vertical movement with the tide.

The terrific buoyancy of the EPS (expanded polystyrene) supports the weight of the concrete, and the combination of the two materials results in a floating dock which is heavy in a way that it won't respond readily to waves or moving loads.