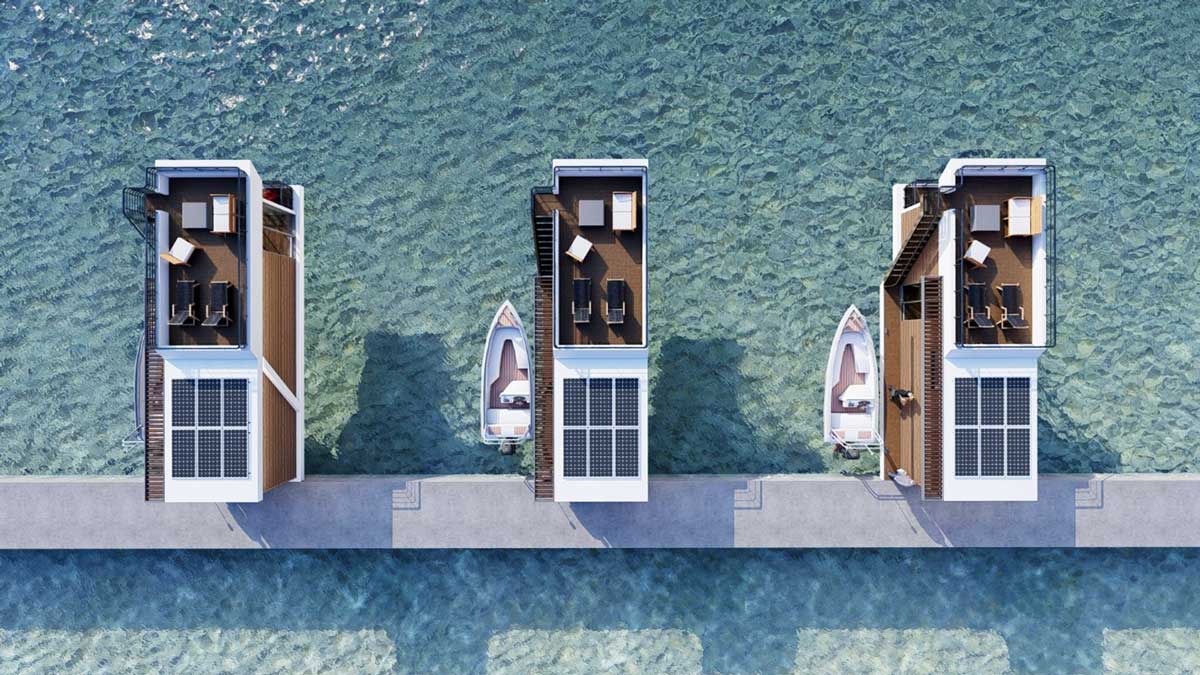 The global housing crisis, caused by the risk of flooding and lack of buildable space in major cities is endemic. Luckily, the solutions exist: floating houses.
The Global Housing Crisis
With the ever-changing housing market, lack of buildable space on land, sea level rise and the risk of floods, congestion of large cities which are choked with high-rise buildings and traffic-laden roads, our future on land is quite uncertain. Each day more and more people move to cities which will lead to more than a half of the world's population living in urban areas by 2030. Cities need to expand but the space left to do so is very limited, or simply unattractive to live in.
The current housing stock is not enough to meet the growing demand for living in coastal cities. The increased pressure to create a larger number of homes is a challenge which cannot be met with the current capacity of land in coastal zones. Due to climate change, polar ice caps are melting, contributing to sea-level rise.
According to some estimates, many metropolises, specifically in the United States, will suffer from frequent flooding and over 400 million people will be directly affected by rising water levels by the end of the century. If no action is taken, the damage to cities from flooding could amount to $1tn a year by 2050, according to a World Bank report. With that knowledge, many world organizations warn about the urgency to protect cities and communities from these risks.
Traditional solutions to solving the housing crisis will obviously not work. Horizontal spread, reclamation of land or going into enormous heights, lead to even greater urban and environmental issues. Many researchers, engineers, designers, and planners across the world are starting to look beyond the traditional frontiers, towards building on water and floating houses as one of the answers to the above-mentioned housing crisis.
What are Floating Houses?
The concept behind a floating house is essentially very simple: an object floats on water as long as its load is equal to or less than the uplift force of the water, allowing the house to stay afloat.
'Floating' is only a prefix that describes the way it stands on the water without being submerged or sink. In terms of aesthetics, comfort or quality, floating houses are almost the same as their counterparts on land. Floating houses are typically fixed and usually connected to a city's sewer system and power grid.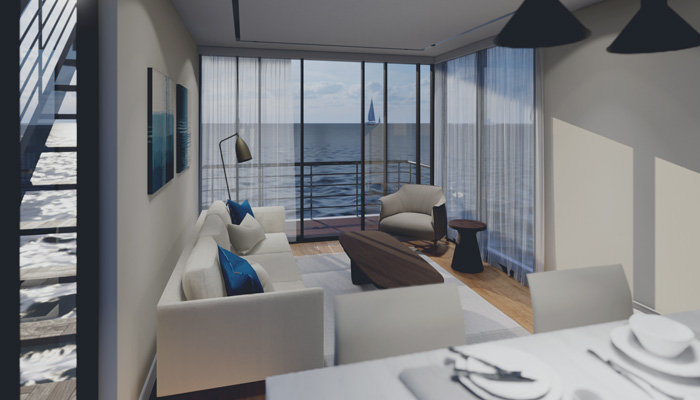 Floating homes have the same comfort level as in houses on land.
There is an increasing number of floating housing construction proposals around the world. However, very few have produced the actual feasible real-life solution for permanent long-term living on water strong-enough to make this type of living a mainstream choice among many investors and users.
HSB Marine has developed a system for construction of floating houses using an innovative approach to provide modular, sustainable, and resilient housing for the future. Floating foundation system (FFS), a special technology developed by HSB Marine, allows floating houses of different sizes and dimensions to be built on a body of water.

Floating Foundation System.
With FFS, housing costs can be significantly reduced compared to land-based construction. Using this method, hundreds of new housing units can be provided as extension to the coastal city land, providing homes for thousands of people while still providing them access and connection to the city metabolism. The idea is to complement housing on land with floating housing, not to replace it entirely. Both will work as one and complete the urban metabolism contributing to it in different ways.
The Floating Initiatives Around The World
The idea of living on the water is spreading at a high pace, taking place in many discussions and proposals around the world. Local governments and many world organizations such as United Nations, Water and Adaptation Community, OECD and World Bank have suggested using the water surfaces as possible spaces for new human settlements. Floating houses are seen as potential solutions that would enable us to move from land to water without worrying about stability and protection from natural disasters.
From single house proposals and small-scale neighborhoods to large-scale floating cities, worldwide examples are showing growing interest in discovering the potential of water and recognition of its importance. One of the recent proposals developed was Maldives Floating city. Master planned by Waterstudio.NL, it represents an ambitious project to create space for thousands of homes and business on water. The project does not require any land reclamation, the buildings will float on the water's surface.
Maldives Floating City.
Another large-scale proposal, world's first prototype sustainable city on water in Busan, South Korea, Oceanix was developed in partnership with UN-Habitat, Oceanix, BIG and MIT's Center for Ocean Engineering. It'll be flood resistant and will be made up of a series of islands which rise with the sea.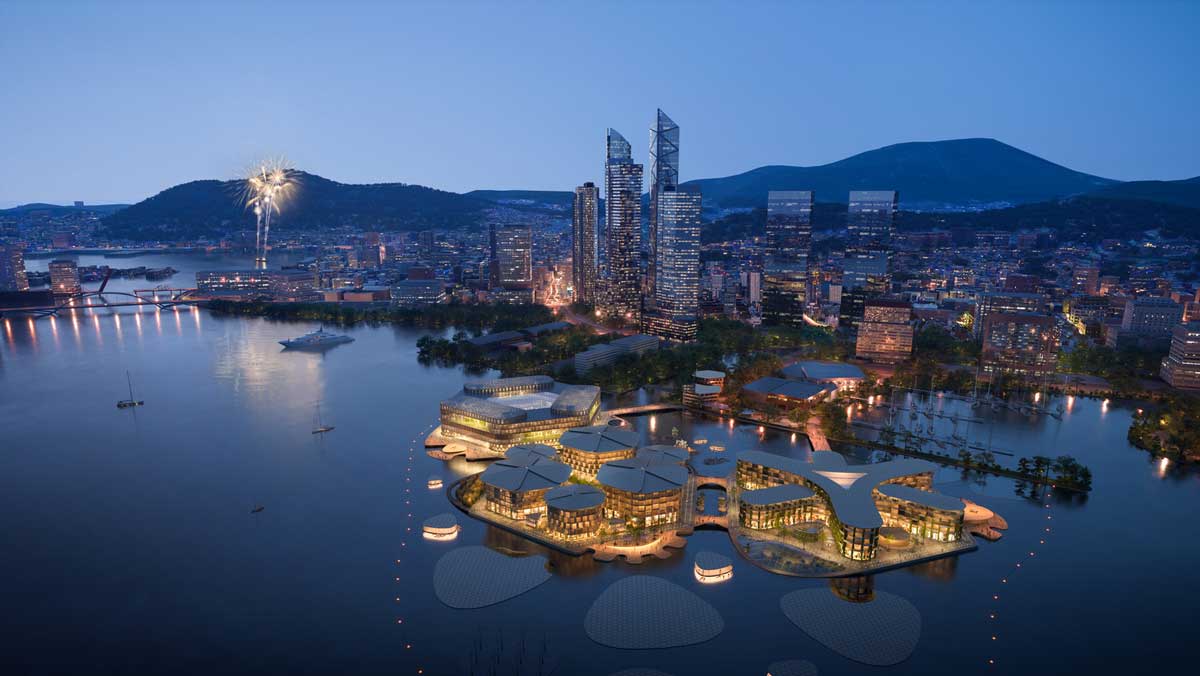 OCEANIX Busan
While these proposals are still in their early conceptual stages and might take years to complete, some smaller scale or individual projects have already been completed and are most likely to become commonplace much sooner. Schoonschip, a floating home development in Amsterdam designed by Dutch architecture practice Space&Matter. Fully completed in 2021, Schoonschip consists of thirty water plots and is home to more than 100 residents.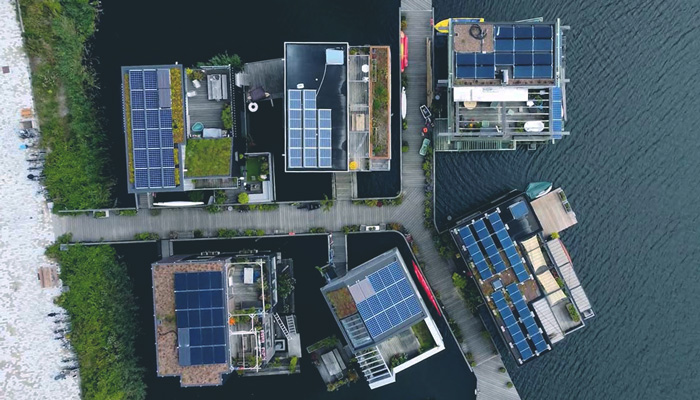 Schoonschip - A sustainable floating community
Why Floating Houses Will be Our Next Homes?
Floating houses are a competitive alternative to houses on land and will soon become the mainstream real-estate investment. These are the main reasons:
Resilient Growth
Adopting a building on water approach will give the world's overpopulated urban centers more space to grow and expand their most attractive zones. Many cities have created spaces through land reclamation, leading to scarcity of sand and threat to freshwater ecosystems. Floating houses allow efficient utilization of large areas of water close to city centers with minimal impact on water ecosystems while providing abundant opportunities for development.
Safe for Earthquake and Flood Disasters
Floating houses are not vulnerable to earthquakes and floods. A properly built floating house on FFS system can never be submerged, making it resilient to rising sea levels, extreme weather, and flooding. Floating structures are designed to adapt to changing sea levels which makes them safe for flooding or rising seas. In case of earthquake, the water underneath the floating house functions as a seismic damper, making it resistant to the effects of earthquakes.
Flexibility & Portability
Modular approach in designing floating houses allows almost endless number of combinations to meet various customers' needs. Modularity also allows size adjustments, expansion or reduction of the size as needed, making it adaptable to different use scenarios. As it is not attached to the ground, a floating house can be easily dislocated and reused with minimum modifications. And we all know that dislocating our house is not really an option on land.
Cost and Time Efficient Production
Compared to conventional construction methods, construction of floating family house can take about half as long. As most of the building and foundation in produced off the site, and then delivered and assembled on the specific location. The foundation and the building can be built simultaneously, remarkably accelerating the construction process. Time needed for the excavation and soil preparation procedures in building on land is not needed for the floating house.
The Price Will Drop by Time
Massive use and making floating architecture mainstream will eventually reduce the cost of the construction and prices of the houses on water. By optimizing the design, material use, and production process, minimization of waste and long-term costs of maintenance and energy consumption for heating and cooling, we are doing everything to make this technology and floating solutions as economical as possible.
Considering the facts, you might want to think of a floating house as the right investment for the future.
Ushering The Era of Living On Water
Floating solutions are an opportunity to rethink our destructive and inefficient practices of building on land. Many might be hesitant about the idea of a floating house today. Indeed, it will take some time to normalize the idea.
However, once we begin to see the benefits, many of us will surely opt for it. Some inventions have potential to transform and revolutionize the way we build, live, or interact.
The floating house will transform the way we live on the land by moving the frontiers into the water. For some, the sky is the limit. For us, water is not the limit, but a whole ocean of new possibilities.