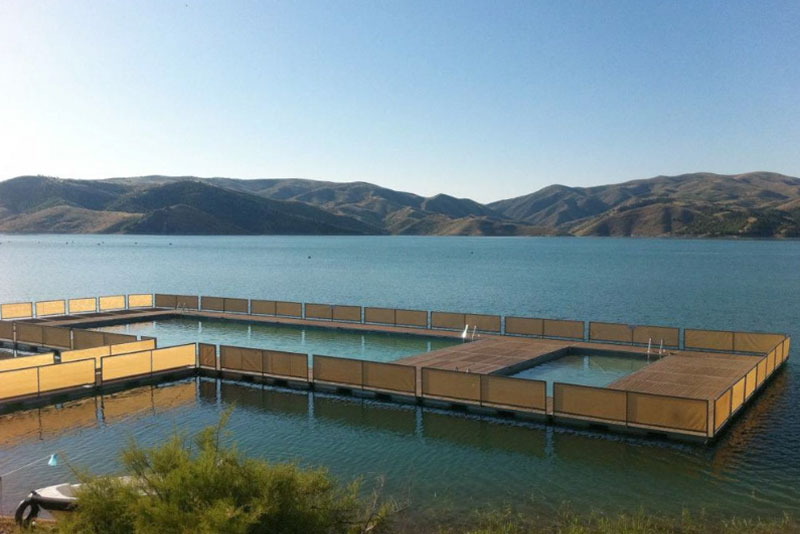 Swimming is one of most favored sports activities around the World. It is a great way to spend some time together with family and friends as well as being very healthy. It is a great way to fuse the useful with the delightful.
Nowadays, when there is no practical solution in a crowded city for construction of public swimming pools, Floating pools are the perfect solution.
Our services include engineering design, "turnkey" construction, installation and maintenance of pools of various forms and sizes, from small local pools up to Olympic size pool.
Access bridges connect the Floating swimming pool to the coast. Electricity, water and sewerage can be supplied from the shore using a pre-existing/installed utility connection. The swimming pool will be constructed on site (as near as possible to the place of installation) and then dragged away to the preferred location.
Floating pool is a unique opportunity to expand and develop the infrastructure of any city by the water. It is also a great opportunity for hotels to expand and provide new services without the use of expensive land plots, which will enable the hotels to offer more rooms for guests in a swimming pool could not be installed on the premises therefor adding a great value to the hotel's operation and income as well as providing guests with a place to sun bathe and a beach on the water.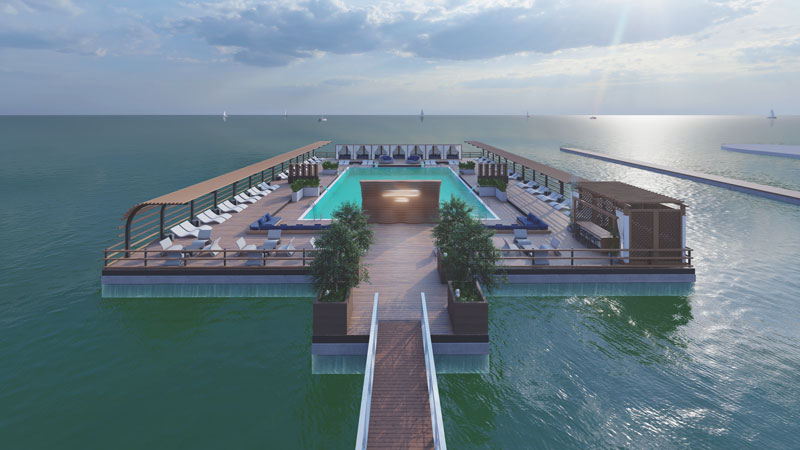 The Floating Swimming Pool can be equipped with: Places for sun bathing; Changing rooms, floating baths (showers) and toilets; Bars and restaurants; Storage rooms; etc…
Floating Swimming Pool is constructed on the basis of a monolithic reinforced concrete pontoon, which internal space can be used for any necessary technical and storage premises. The size, form, equipment and functionality of a Floating Swimming Pool depend on clients' individual requirements.
Who has never dreamed of diving into an expanse of water in the wild minus the seaweed and fish and without fear or discomfort? The floating pool is the solution, a modular structure in natural surroundings to provide safe bathing.
Lagoon-side hotels, Diving clubs, Villas, Golf courses by the water are places that are suitable for setting up floating swimming pools. This new concept made of modular structures and pontoons offers many benefits.
Floating construction and waterfront development is more popular than ever. Cities and companies are gravitating towards the waterfront areas favored by consumers. As a result, the land areas that can be developed are decreasing.
However, there are plenty of water areas to build on with floating construction solutions. Beach clubs, swimming pools, sports and leisure centers, utility buildings, offices, restaurants, nightclubs, shopping centers, private homes, hotel villas, parks, bike routes and even large housing areas – you name it. With floating technology numerous solutions are possible.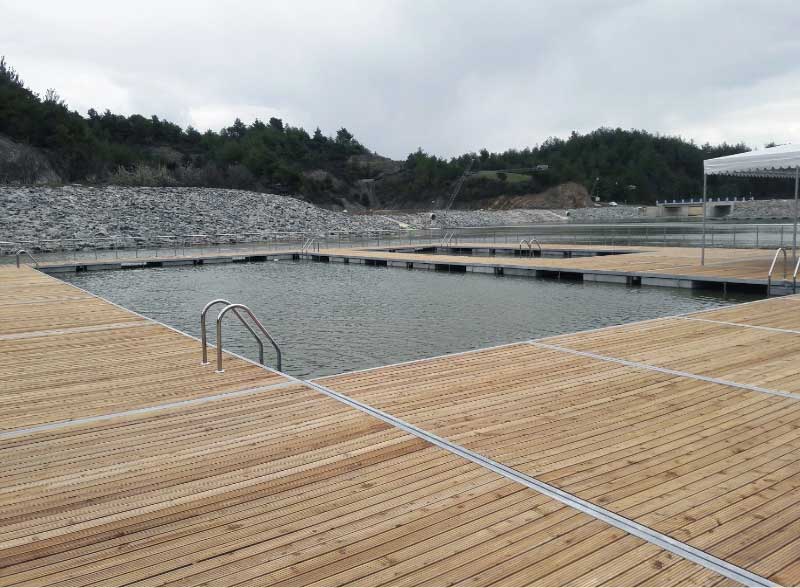 Why Floating Swimming Pool?
● They provide the opportunity to carry out new construction in any area in any seaside city where land is scarce.
● Floating facilities do not require excavation works.
● No need for land plot rent or purchase for construction.
● Minor use of hydro-technical works during construction, which significantly reduces the level of environmental pollution.
● In case of city master plan changes, natural disasters or other force majeure the floating structure can be moved to a more convenient place.
● The construction is carried out under the supervision and in accordance with the high standards of the leading global classifications.
The pool is designed as a community space for consumers to gather in and enjoy clean water in a segmented space that is still connected to the water. The pool creatively floats slightly higher than the body of water with an infinity pool aesthetic. It is environmental friendly without any kind of pollutions, stable and secure on the water surface, esthetically beautiful with various color combinations.