Ready to take your first step onto the water? For that, you will probably need a floating dock or pontoon. The right dock can bring you many benefits such as transforming your property, boosting your resale value, or creating a gathering space for entertaining and lounging. However, selecting the right dock can be a challenging task as there are plenty of options available. All docking solutions have pros and cons, but some types will align with your needs better than others.
Floating docks can be manufactured from various different structural materials, and are mainly used as a passage between land and water. In general, the available types of floating docks are: concrete pontoon, aluminum pontoon, floating steel framed docks, rotational HDPE plastic docks and polyethylene pontoons.
There is no dock option called "best dock". In fact, there is "right choice". To help you choose the right dock, we have outlined several aspects you should consider in your selection process. In this article, we will discuss different features of the most popular pontoon types in the market.
What are Floating Docks or Pontoons?
Floating docks are built on a body of water. Based on the method used to build them, there are two major types: removable or floating and stationary or fixed. Both types are used to provide access to water from the shore and vice versa.
Permanent docks are intended to be installed for long-term use, which means they cannot easily be removed or extended. On the other hand, floating docks can rise and fall with the water level, making them adaptable to nearly any condition. They can be installed on different types of water such as sea, lake, or river. They are available in a variety of configurations and shapes. Because they rise and fall with water levels, any critical electrical systems attached to the dock surface will never be submerged which makes floating docks safe solutions for many activities on water. They also have minimum or no impact on the surrounding environment and typically do not disrupt natural ecosystem or habitat.
How to Select the Right Floating Dock and Pontoon?
When choosing a pontoon, first the location of the project must be considered in order to determine the wind and wave loads in that area. Then the suitable pontoon which will best accommodate these loads is selected. Once the type is selected, it will then be manufactured as per the client/project's requirements and needs. The use and purpose of each of the above-mentioned models does vary. In this article, we will talk about the features of pontoon models that are generally used in the market.
Floating Aluminium Docks (Pontoons)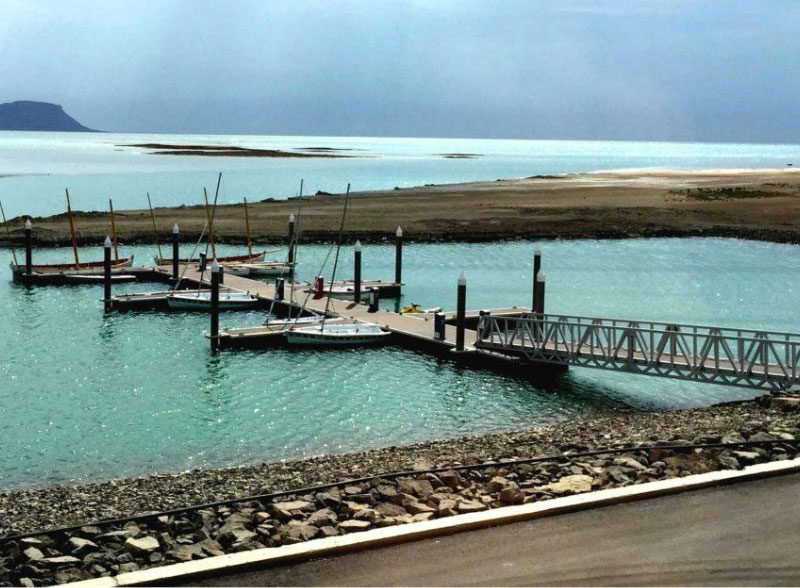 Aluminum docks are manufactured using water resistant T6 type marine Aluminum. The aluminum frame is generally have decking with wood or wood composite. The floaters used are usually high density polyethylene or fiber concrete coated EPS. The special design of the aluminum pontoon's profile allows cleats and fenders to be directly attached to the channels located on it. The equipment on the pontoon can be easily changed according to the needs. Floating aluminum pontoons are lightweight and easy to move. They can be shipped to different parts of the world by container or through land.
Floating aluminum docks are suitable for fresh or salt water. They are generally used in calm and shallow water within the port as the wave strength is not high in the closed water area. They are mainly used as piers for marina and boat mooring, and floating walkways.
The Aluminum pontoon is the most expensive among the pontoon types, and that is due to aluminum chassis raw materials requiring decking and craftsmanship which increases the cost. Polyethylene floter is generally used and it is necessary to fill these polyethylene blocks with EPS Styrofoam in order to protect the buoyancy in case of cracks. This model has a commercial life of up to 20-25 years.
To rate aluminium floating dock using a point system (5 being the highest)
Carrying Capacity: Medium 3 Points
Aesthetics: High Standard 5 Points
Practicality: Functional to use 4 Points
Commercial Life: 20 – 25years commercial life 3 points
Cost: High 2 Points
Wave Resistance: Low 2 Points
Floating Concrete Docks (Pontoons)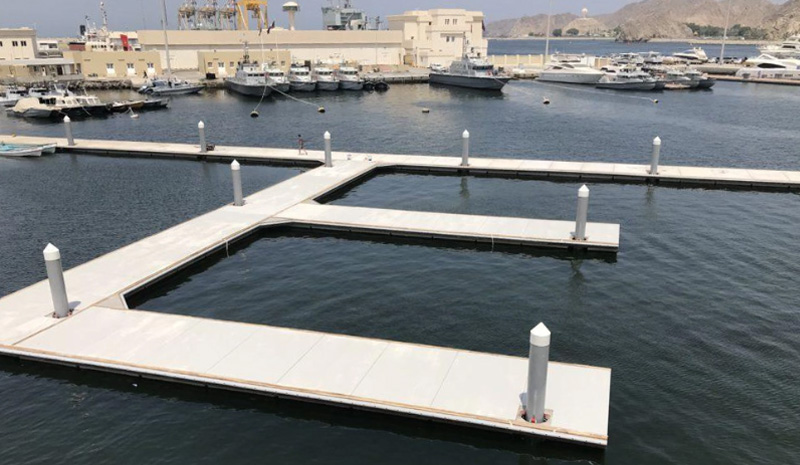 Concrete pontoons are the best solution for high amplitude purposes. The concrete bulk system is fitted around high-density EPS core to forms an economical and durable block in one single piece. All of the iron reinforcement parts used for this single-piece pontoon block are hot-dip galvanized. Sulfate resistant CEM3 class concrete is the preferred type used in the manufacturing process. Using these raw materials enables the concrete and steel parts to become resistant to corrosion.
Floating concrete pontoons generally have the highest load capacity, wave resistance and commercial life among pontoon models, and can be used in many different areas such as marinas, floating platforms, floating house/restaurant/office foundations, military and floating docks.
To rate concrete floating dock using a point system (5 being the highest)
Carrying Capacity: High 5 Points
Aesthetics: Standard 4 Points
Practicality: Functional to use 4 Points
Commercial Life: 40-50 years 5 points
Cost: Reasonable 4 Points
Wave Resistance: High 5 Points
Floating HDPE Plastic Docks (Pontoons)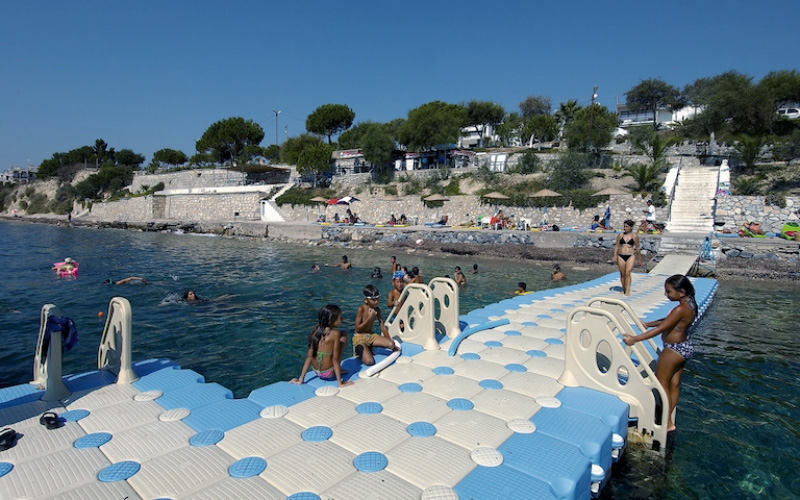 This type of pontoon is made by heating the plastic raw material to liquid which moves then into a mold on multi-axis rotation. These products are generally interconnected and are 3mm to 8mm thick. Plastic docks are mainly used as a surface platforms on the water for areas that are periodically and temporary used for swimming purposes.
Plastic pontoons are preferred for easy installation and low cost. However, the commercial life is quite short. Due to the heating and cooling of the plastic under the sun, the material loses it flexible properties and capillary cracks start to form. The water starts to seep into the pontoon modules. That could cause the pontoon to either sink or lose its carrying capacity with the force of the other blocks completely.
To rate HDPE plastic floating dock using a point system (5 being the highest)
Carrying Capacity: Low 2 Points
Aesthetics: Low 2 Points
Usability: functional 3 Points
Commercial Life: 2-3 years 2 points
Cost: Low 5 Points
Wave Resistance: Good 4 Points
Floating Steel Docks (Pontoons)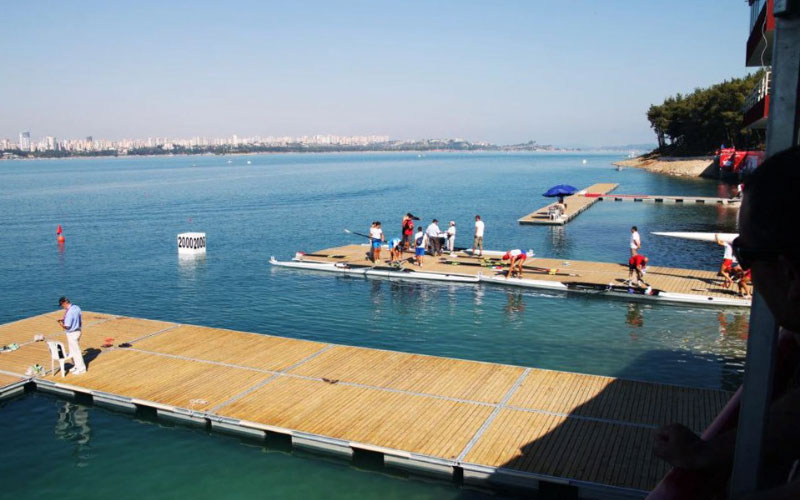 Although similar to the floating aluminum pontoons, they are manufactured using structural steel. All steel parts are coated with hot-dip galvanized to protect against corrosion. This type of pontoons are usually used as a better alternative to plastic while maintaining similar costs. The steel frame carcass is highly resistant to flexing, and fiber concrete floats are used underneath it. Natural wood or WPC composite coatings are preferred decking on the steel frame. This pontoon model is suitable for circular and asymmetrical architectural needs, as the steel frame can be curved into different shapes.
Floating steel docks are generally used for touristic swimming facilities, boat berthing, floating platform, finger pontoon, sunbathing island, etc…
They are very comfortable in point loads as the carrying capacity of the pontoon blocks are connected to each other. Steel pontoons work rigidly as a single piece. Steel dock have a commercial life span of 10 to 15 years, but could be slightly higher in freshwater basin.
To rate floating steel dock using a point system (5 being the highest)
Carrying Capacity: Medium 3 Points
Aesthetics: Medium 3 Points
Usefulness: Functional 4 Points
Commercial Life: 10-15 years 3 points
Cost: Low 5 Points
Wave Resistance: Medium 3 Points
Comparison of Floating Dock Types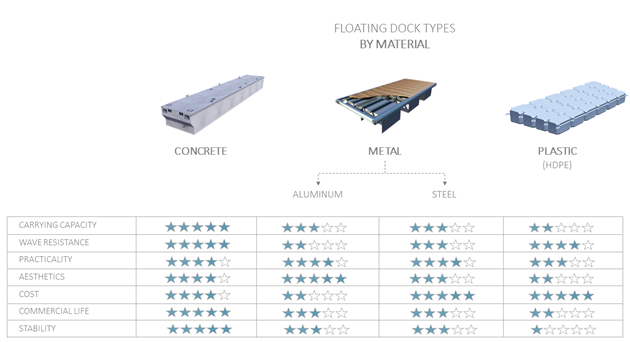 All three types of materials mentioned above can provide a floating platform for different purposes. Not all materials have similar benefits. The main features such as carrying capacity, wave resistance, practicality, aesthetics, cost, commercial life, and stability are compared. to help you find the best option. This table will help you.