Whether you are looking for a romantic getaway for two, or a mobile house in the middle of the sea for the entire family or group of friends, or just a place where you can wake up to the sunrise with a cup of coffee and drift into the night as you watch the sunset away from all city crowdedness, the Leisure Houseboat is the right choice for you.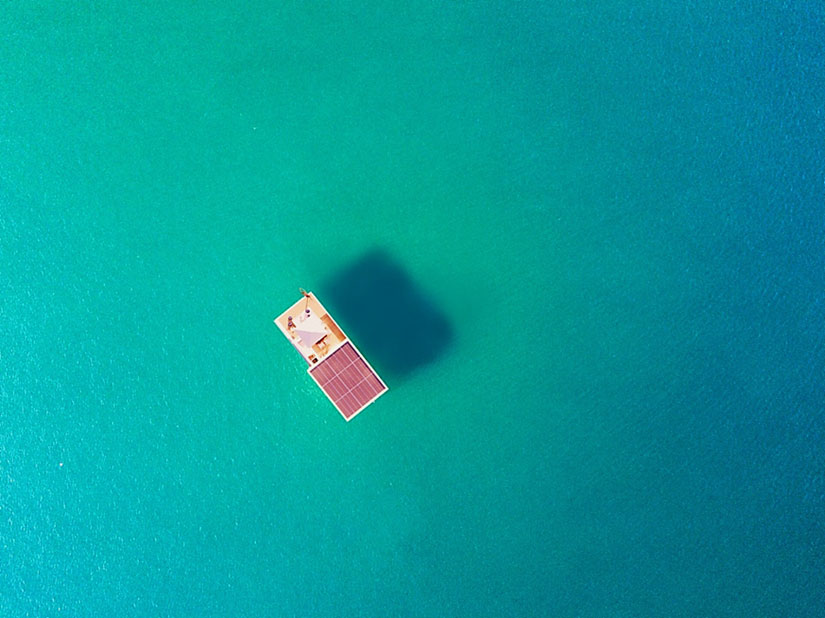 Combining the luxury of a yacht and the comfort of a hotel suite, we designed a houseboat that will provide you a unique experience on water surface.
Houseboat Design Concept
Smart, mobile and luxury. Houseboat or yacht house is designed to provide everything will you need for leisure on the water. With the dimensions of 4.9 meters wide and 11.8 meters long, it has a functional interior and exterior for various activities and full comfort in the middle of sea.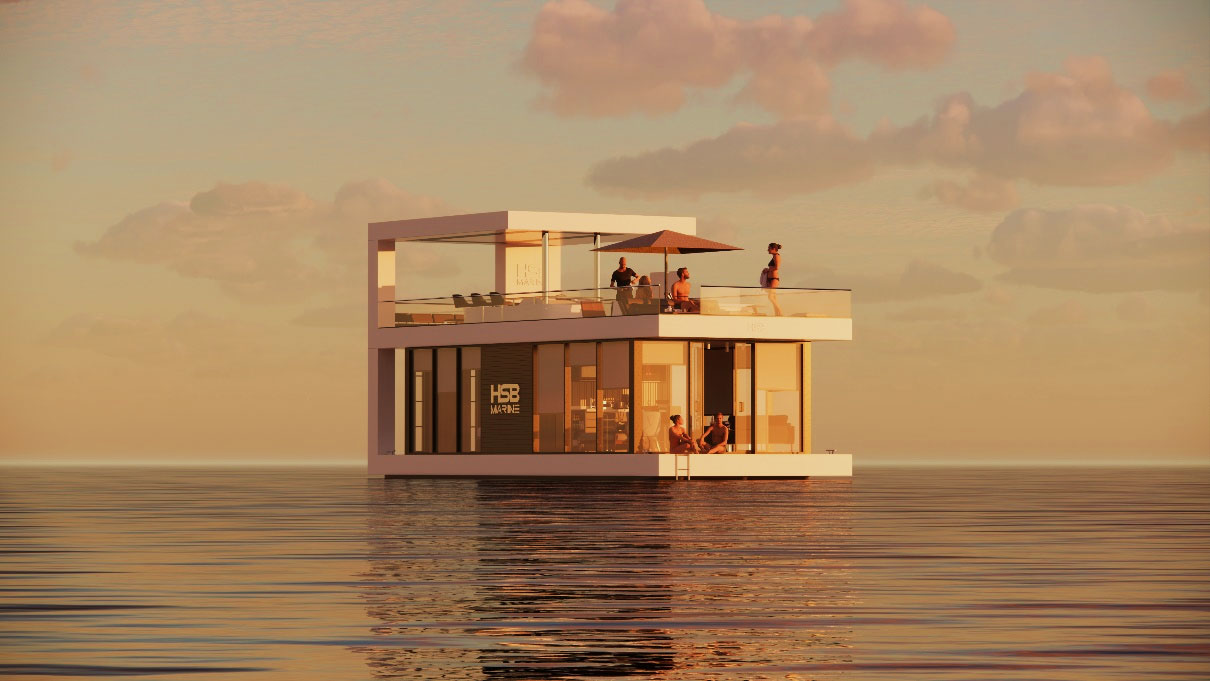 Interior Design
When entering the Houseboat, you are welcomed with a covered patio that leads you to your bedroom. To ensure the full comfort, bedroom has a king size bed and ensuite bathroom with a large walk-in shower, washbasin, and a toilet. The interior of bedroom is designed to create a cozy and intimate atmosphere with warm tones and wooden panels above the bed. On the other side, you can enjoy a stunning view directly out to sea enabled through large floor to ceiling windows.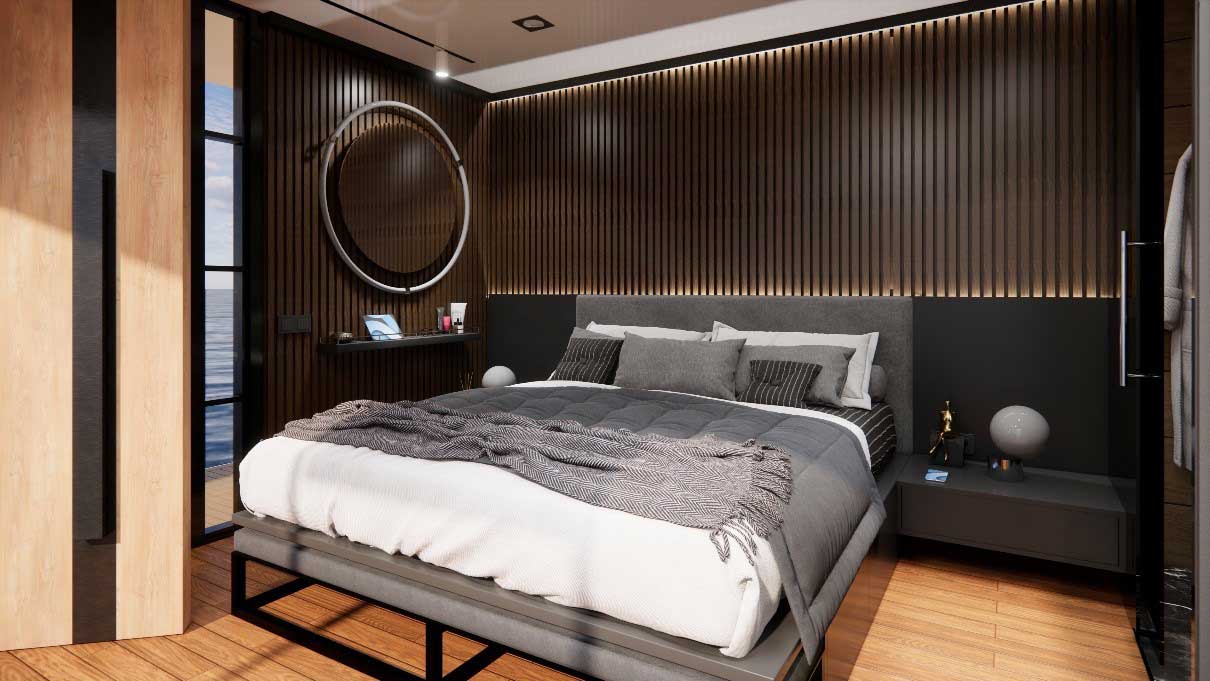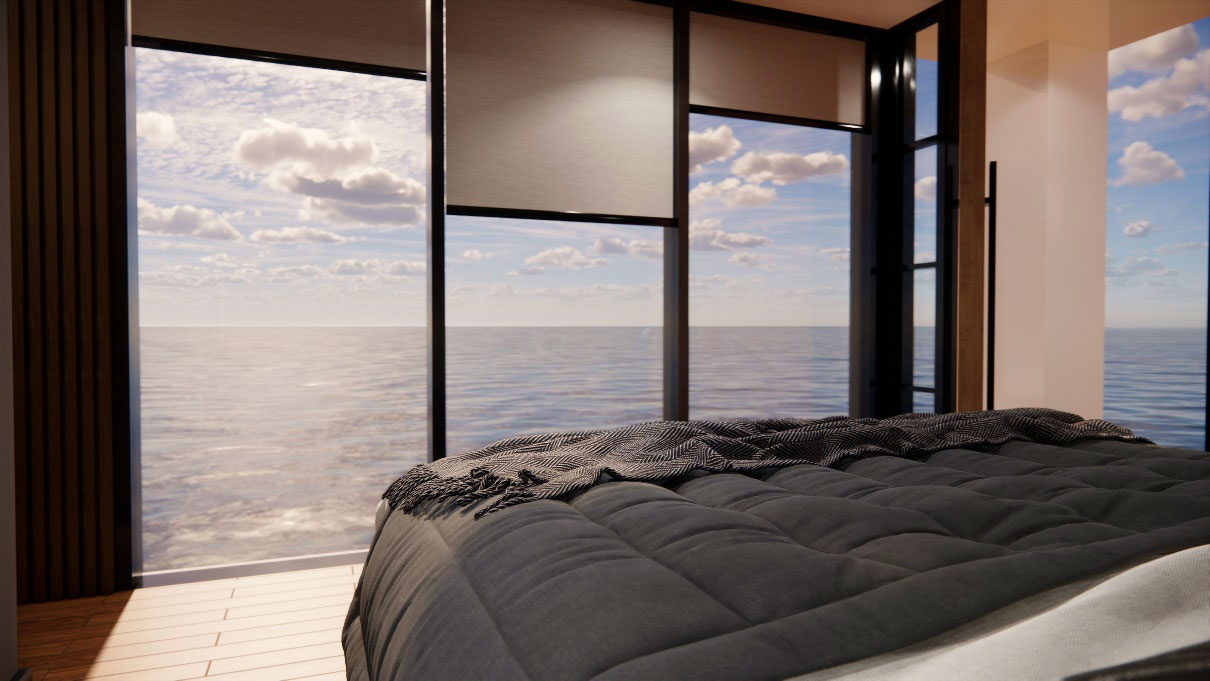 Wardrobe closet is placed in the connection zone between living and sleeping areas. It is used as a dressing room, a storage where you can put away your clothes or wash it in a wash machine that is elegantly hidden behind the closet doors. A hidden pocket door with a mirror, placed between closet area and the living room, can be used to divide the two areas of the house when you need additional privacy.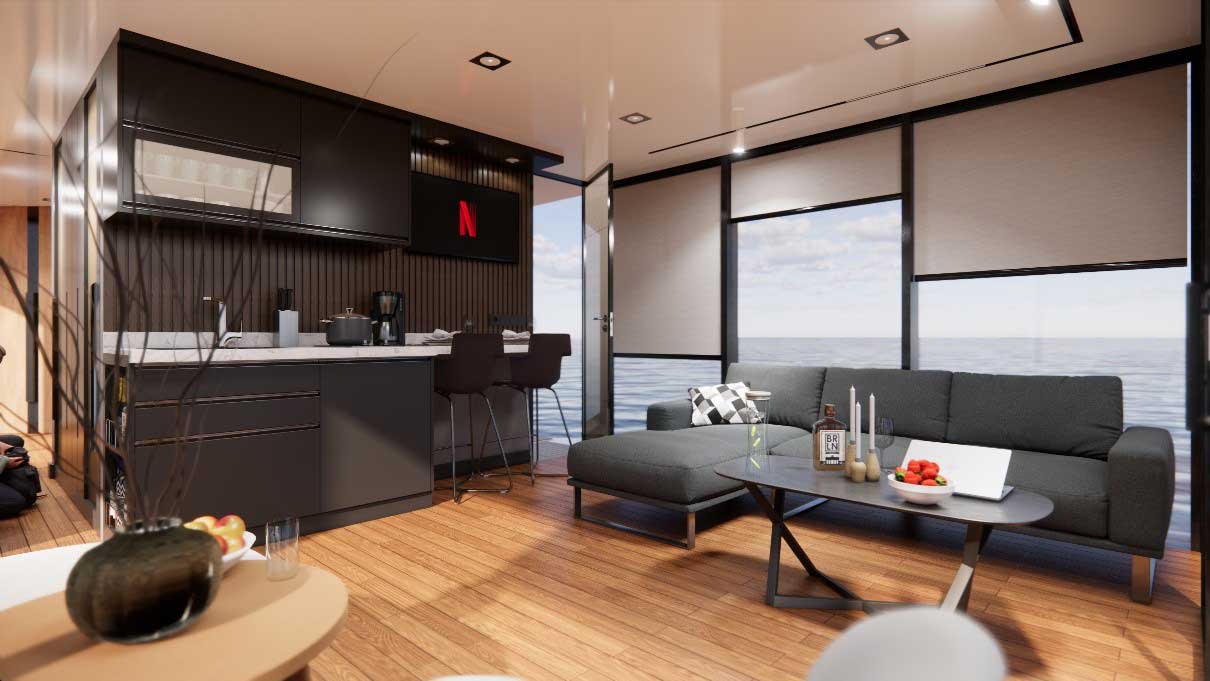 Continuing to the living room, you enter a spacious room with calming blend of soft tones furnished with contemporary furniture. A wide expandable sofa provides additional sleeping space, a flat screen and large windows surrounding the living space ensure the gorgeous unobstructed view to out to the sea. To maintain the desired shade and comfort, as well as to give you the desired privacy when needed, all the windows have built-in retractable roller window shades.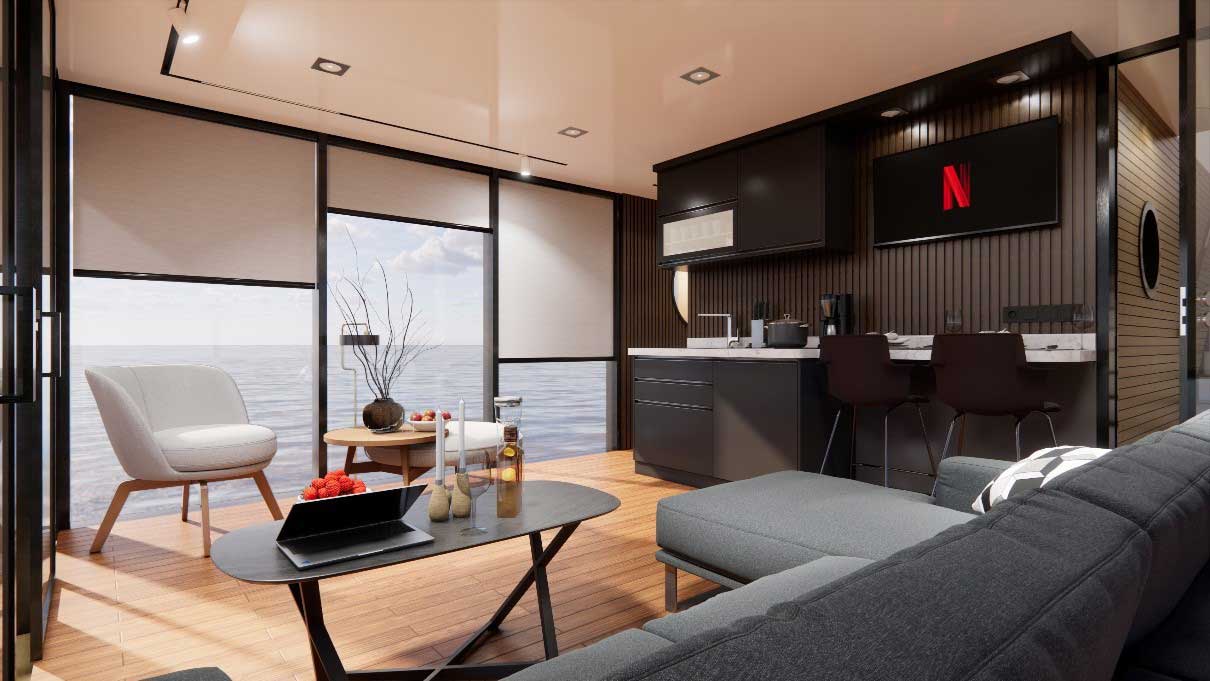 The kitchen is integral part of the living space. It is equipped with all modern appliances, a wine cabinet, mini dishwasher and the small electrical stove. Additional space is provided in the upper cabinets with specially designed lock system to ensure the maximum safety in the Houseboat. The dining area is designed as the extension of a kitchen countertop.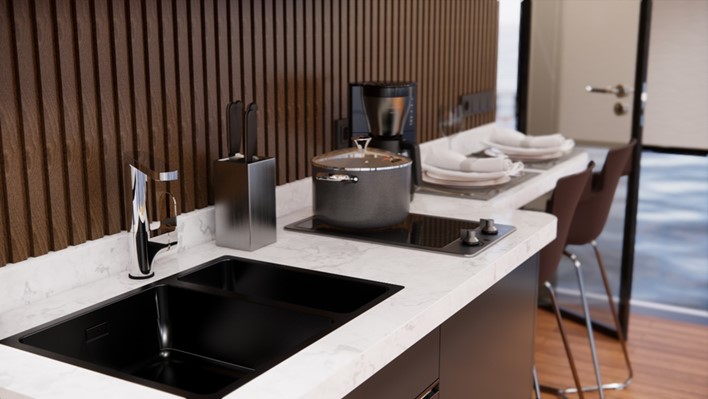 A sliding glass door leads to a back deck which offers the perfect viewing platform for relaxing, reading, or laying on the sun. It has elegantly hidden foldable ladders that enable you to climb back to your houseboat after enjoying swimming in the sea.
Exterior and Terrace
Fiber stairs connect living area with the most intriguing part of the houseboat – the top deck. Designed for you to enjoy a dinner party with your friends or a romantic dinner with your partner, or just lay on the bed and watch the stars at night. The continuation of the living space onto the terrace creates a beautiful ensemble. A lovely spacious and multifunctional terrace offers a plenty of space for an outdoor bar, barbeque, and a cockpit.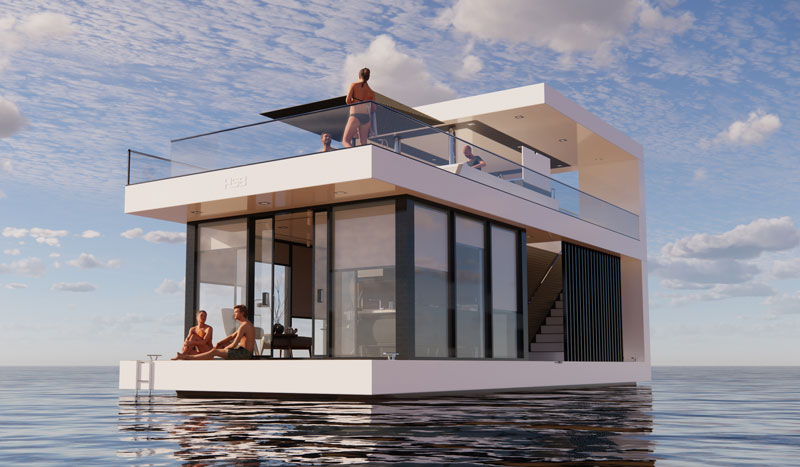 Smart design ensures the efficient use of the space with plenty of sitting, dining, and sunbathing areas on a large sunbed in the front of the top deck. Clever storage solutions with lower cabinets built in the fiber body of the houseboat ensure maximum space utilization of the interior as well as the exterior. The entire top deck area is surrounded with glass safety railings to ensure the maximum feeling of safety on the boat. Part of the deck area is covered with six meters long roof which gives a sense of privacy and protects from the sun.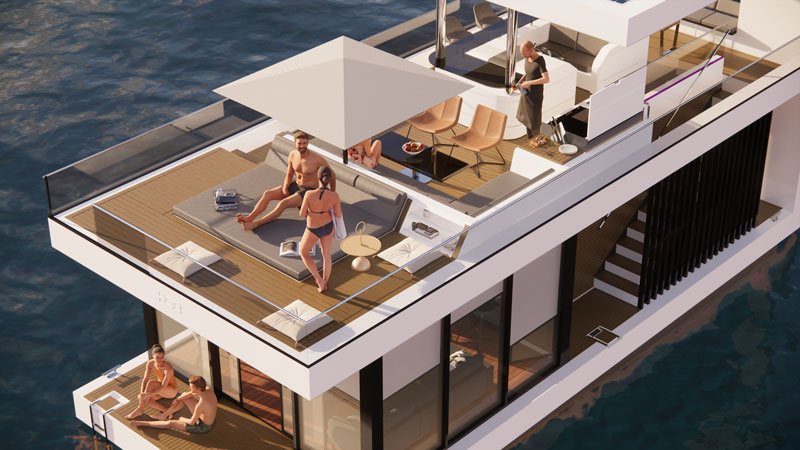 The simple yet luxurious look is achieved by smooth, simple, yet elegant lines and shapes, and carefully selected materials and colors. The body of the Houseboat is made of fiber, combining aluminum windows with stainless steel details, glass and wood.
Selection and design of furniture with notes of soft-minimalism and high-quality materials with elegant form, create a sense of subtle luxury and a beautiful contrast to the outdoor surroundings. A refined abundance of warm textures and tones that are used throughout creates a deep sense of coziness and comfort.
Amenities
Houseboat amenities were carefully selected and designed to ensure a comfortable stay during your journey.
Smart Technology
Thanks to the smart technology system, all devices can be controlled and monitored remotely. Door locks, tv, sound, cameras, lights, rollers, heating & cooling systems, and appliances can be controlled through one home automation system. Smart home appliances come with self-learning skills so they can learn your schedules and adjust as needed. The system can be installed on your mobile or other networked device. This system optimizes energy use in your houseboat making sure that you use them only when needed.
Mobility
Three floaters installed under the floor with two pod motors allow you to move your Houseboat at a low speed (up to 12 km/h) to a desired location.
Transportability
Thanks to the modular design of the houseboat, all its components, including equipment and furniture, can be easily stored in two standard containers, and transported to almost anywhere on the planet.
Sustainability
Glass walls allow natural lighting to the houseboat. Fiberglass is an excellent thermal insulator which means it significantly reduces the need for added energy to regulate the temperature of the house.
All blackwater and greywater pass through a treatment station to finally return to the environment in conditions of physical, chemical, and bacteriological purity.
Solar-Powered
A 100% electric houseboat that takes all its energy needs from the sun. The roof of the houseboat is covered with fifteen solar panels that generate energy that is accumulated in a battery pack system and used when necessary. When charged, the house is self-sufficient for at least seven days.
Life and Leisure
A fully equipped kitchen for everyday use, a bar and a barbecue, sunbed with a bookshelf on the upper terrace for sunny days, guarantees a great living experience, whether you choose to use it as a base for numerous outdoor activities or simply as a treasure island to relax.
Houseboat as part of future sustainable lifestyle: Prestige or a Necessity?
Water holds potential for new adventurous and unique experiences that will transform the way we live. Considering the fact that houses on water produce less emission (less than half of the emission of a standard house), that it can be produced very quickly and reused if needed, floating homes are believed for a reason to be one of the most pertinent solutions that are both sustainable and eco-friendly. In addition, spending time on the water positively affects our well-being. Various research shows that being near water makes us more creative, promotes a sense of wellness and can even ease our minds.
Due to climate change, natural disasters, floods, earthquakes as well as growing population and overall inefficiency of building on land, the biggest challenge facing countries is ensuring sustainable economic growth. From a rapid transition towards sustainable cities to making sustainable housing, the emphasis is on reducing carbon footprint and leaving a world that is healthy for the coming generations. Weather it is going to be used to spend a vacation or to live permanently, water surfaces hold great economic and ecological potentials. Many developers and designers already started to look to the potential of living on water.
The demand for homes on water is rapidly increasing as it gives their owners the best of both worlds in the form of space, luxury, and convenience. For those looking for new experience and more environmentally conscious living, the houseboat presents the ultimate solution that will guarantee a luxury lifestyle and a unique and versatile asset.
Houseboat may be a matter of prestige today. However, it might as well very soon become a necessity due to the changing conditions of living on land.
Prepare for the future today, with a Houseboat.